Autozubehör, Verstärkte Federn, Luftfedern
Willkommen bei Horvath 4x4
Zubehör, Höherlegung, Niveauregulierungsfedern, Zusatzfedern, Verstärkte Federn, Luftfedern
für PKW, Geländewagen, SUV, 4x4, Pickup, 
LLKW, Transporter, Nutzfahrzeuge, LKW, Wohnmobile, Wohnkabine
Lassen Sie Ihr Fahrzeug nicht hängen! 
-
Hotline
Warum Zusatzfedern einbauen? info:
bitte hier klicken!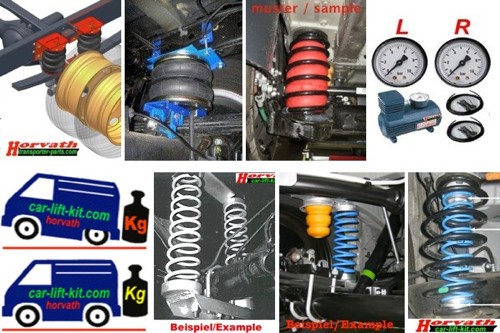 Von einzelnen Zubehörteilen bis zum kompletten Fahrzeugstyling!
für Händler und Autofans! - Versand Weltweit!
 
z.B. Rammschutz, Seitenrammschutz, Trittbrett, Höherlegung für fast alle Autos.
Reserveradabdeckungen nach Maß, in jeder Größe, auch für LKW.


Auxiliary Springs (Helper-Springs) Toyota ProAce, year 06.2016-, Incl. Shuttle, not with reinforced original springs
Mercedes X Klasse Pickup Bullbar
Bullbar Mercedes X Klasse Pickup Shapely, modern bullbar made of high-polish stainless steel or black, 76mm or 63mm diameter. Compatible with park sensors and ACC system.